Buy ExclusiveCoin
What is ExclusiveCoin?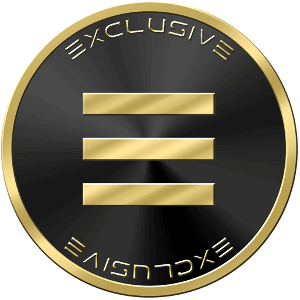 Easy to use and offering enhanced privacy to users, Exclusive Coin (EXCL) is an established cryptocurrency and one of the few masternode coins in existence. With full Proof of Stake (PoS), Exclusive Coin offers greater network security and transaction safety than traditional Proof of Work (PoW). It is also resistant to blockchain "forking". Masternode platform employs a computer wallet to operate the blockchain and relay the blocks for speedy payments and private transactions DarkSend protocol and coin-mixing technique makes transactions fully anonymous and untraceable Free and open source platform to promote future development and add greater value to the network Exclusive Coin enables users to make easy and quick transactions using this decentralised currency. Offering features like on-the-fly exchange, electrum light wallet, Android wallet and zerocash protocol, the Exclusive Coin team expects to add many more real-world use cases to their future portfolio.
How do I buy ExclusiveCoin?
1.
Deposit funds into your account.
2.
Enter the amount of ExclusiveCoin (or Australian Dollar equivalent) that you would like to buy.
3.
Click 'Buy' to confirm your ExclusiveCoin purchase and your ExclusiveCoin will arrive in your CoinSpot wallet within minutes.


Should ExclusiveCoin become available, here are instructions on how to complete your purchase.